CO-ED FALL SOFTBALL (Click Here for League Details) Softball · Co-Ed CHOOSE IN SIGN UPS
Requires Player Membership
MonTue
Wed
ThuFriSatSun
6:15pm to 10:15pm
Co-ed Softball
Team Fees

Early Bird

60.0

per player

Regular

60.0

per player
Free Agent Fees

Early Bird

60.0

Regular

60.0
BSSC 2018 FALL SOFTBALL CO-ED LEAGUE
Sign up a team or as an individual to stay active, have way too much fun and meet lifelong friends at our sponsor bars before or after your game!
No experience is necessary as BSSC creates a fun social atmosphere with (3) levels of athletic ability that never uses the word competitive in their description.
Get ready to bring your uncontrollable desire for having a blast and remember:
BSSC, For People Who Enjoy Sports, But LOVE To Socialize!

TEAM / INDIVIDUAL SIGN UP TUTORIAL

CLICK HERE for more information on how to sign up for the league
LEAGUE OVERVIEW
Start Date: Wednesday, September 19th, 2018
Times: 10:00am- 4:00pm
Locations: Patterson Park, Joseph Lee Park, (see site for maps)
Season format: Teams will play a 7-week regular season schedule with week 8 starting the post season for teams that qualify. Teams that did not qualify for the post season, will play an 8th week consolation game. Week 9 will be slated completion of the post season.
Makeup Games: Rained out games will be placed throughout the season and at the end of the season. Please follow the rainout date on the website when determining your game
BSSC COED DIVISION DESCRIPTIONS
Social: Teams that have advanced athletic skills and love to socialize.
Extreme Social: Teams that have intermediate athletic skills and love to socialize. Sub Leagues of Extreme:
Tastes Great: Teams with upper intermediate athletic skills.
Less Filling: Teams with lower intermediate athletic skills.
Super Extreme Social: Teams that have basic athletic skills, but are highly skilled in socializing.
*Note: Super Extreme Social does NOT offer postseason games.time/field location.

INCLUDED IN LEAGUE FEE
- 7 game season ( 8th week will be start consolation /Post Season Games)
- Medstar Sports Medicine ATC at field location and access to the MedStar Sports Medicine network
- Qualified referee and other staff trained by BSSC
- Fields lined with paint and cone set up for front/back end zone, midfield etc.
- BSSC current league T-shirt for each participant
- Specials at our official BSSC sponsor bars
- Field rental for each location and set-up of field equipment where applicable.
- Participation in charitable and social events
- The opportunity to socialize with other BSSC members!

BSSC OFFICIAL SPONSOR BARS
We invite and encourage you to join your fellow BSSC members at the official sponsor bars after each game to accrue valuable Social Points (SP) to be used throughout the season. Miller Lite Beer and our official bar sponsors help to keep the costs of the BSSC affordable to everyone. Bars contribute to our sponsorship program because of the large economic impact members have on their business. Competing bars in the area did not contribute to making the BSSC affordable to its members. Therefore, out of respect to the sponsors; on game days, please patronize only those sponsor bars that are supporting you and the BSSC.
More important, the official sponsor bars are where the entire league goes to grab a cold Miller Lite, meet old friends and make new ones. The names of our sponsor bars are provided on the website, at the beginning of this publication, and on your league shirts.

WHAT ARE SOCIAL POINTS & HOW DO WE ACCUMULATE THEM ?
- After your game, visit any of our current league sponsor bar(s) and take your BSSC team photo and post on the BSSC Facebook Page!
- For each teammate in the photo, you will receive ONE Social Point for that week. Number of teammates in each photo is crucial because of the value they for the Post Season.
- For those teams that don't make the post-season, we have a prize for you too. We'll be handing out an additional $50 voucher to the top Social Point team that season.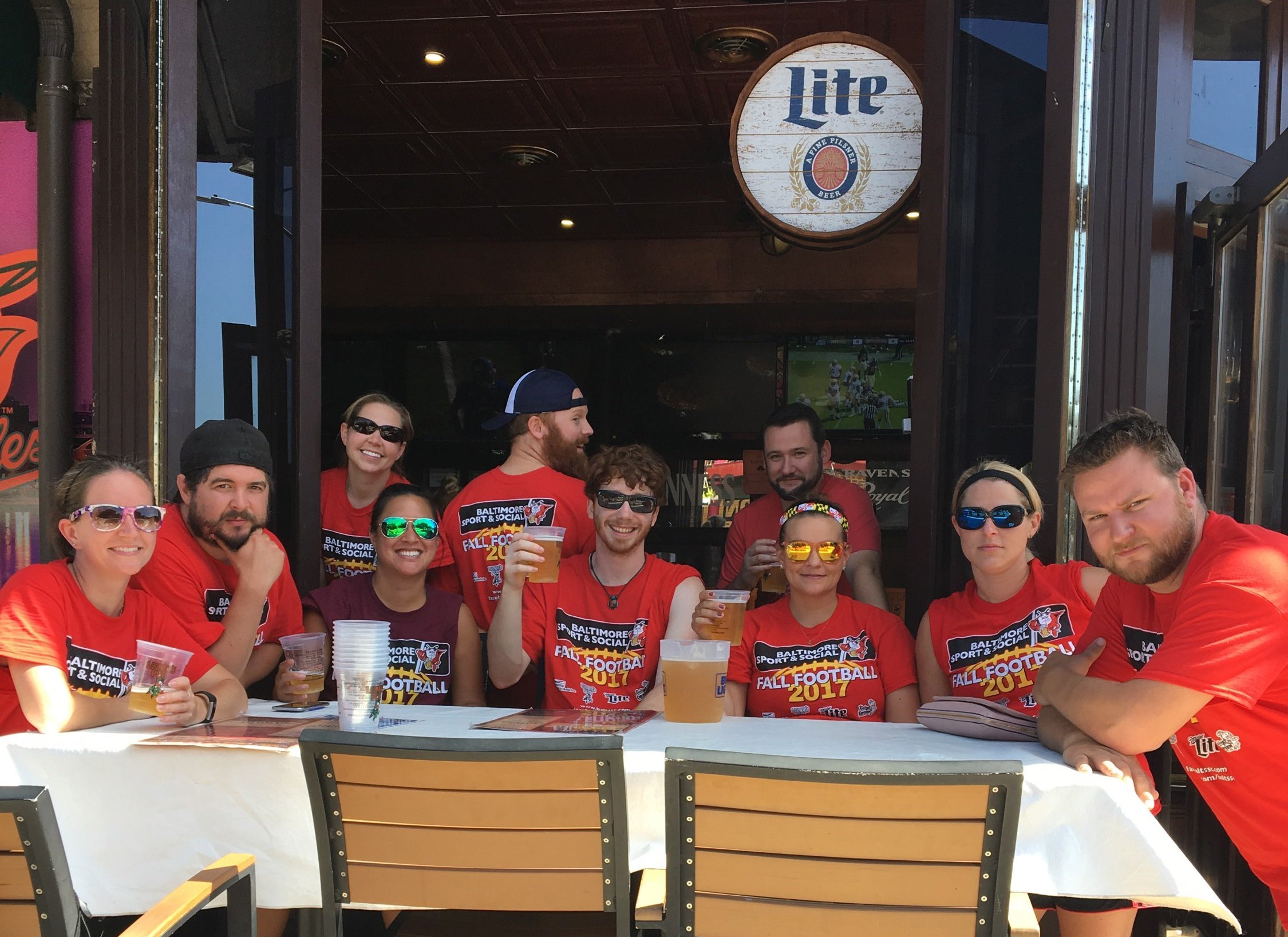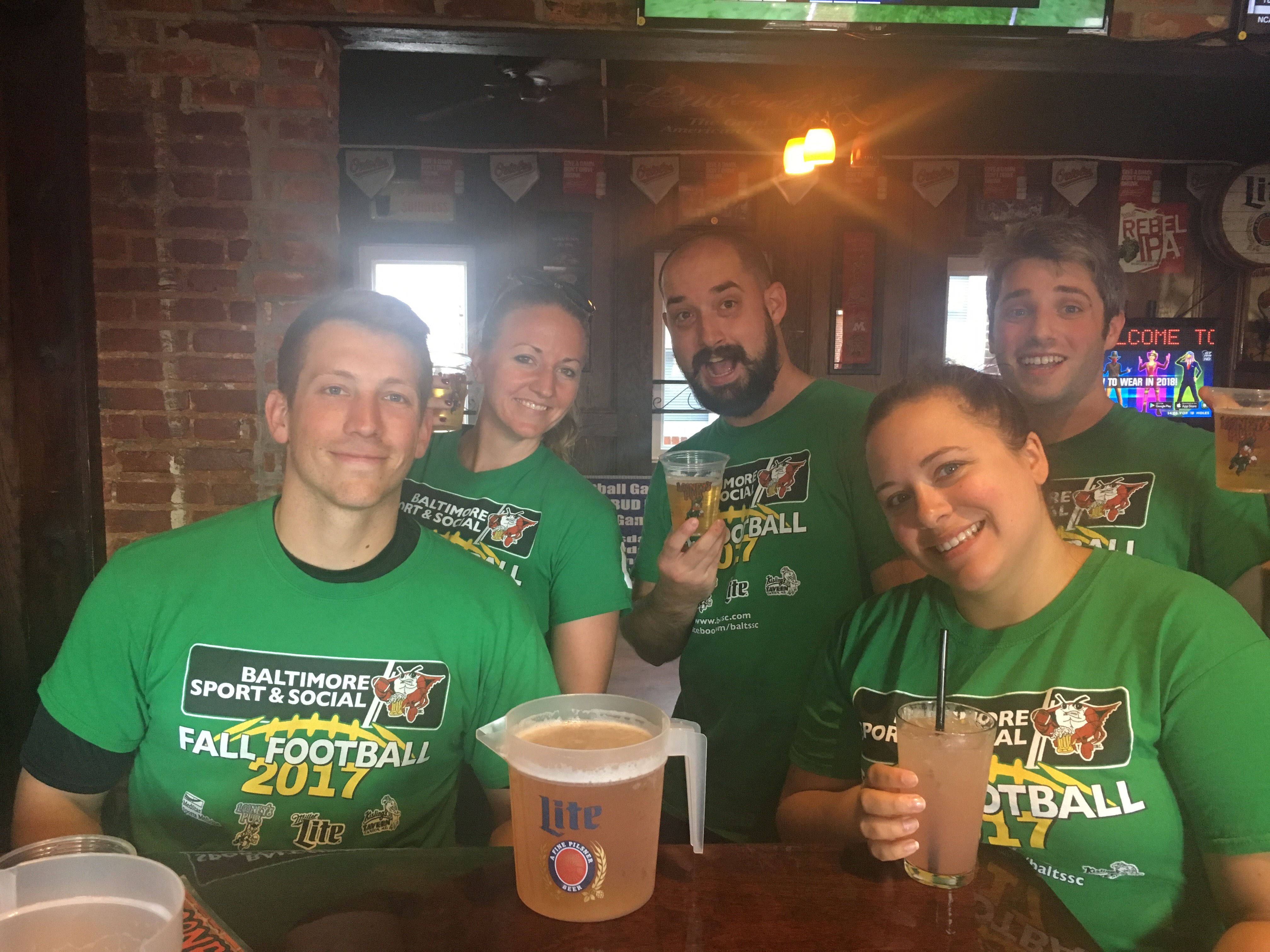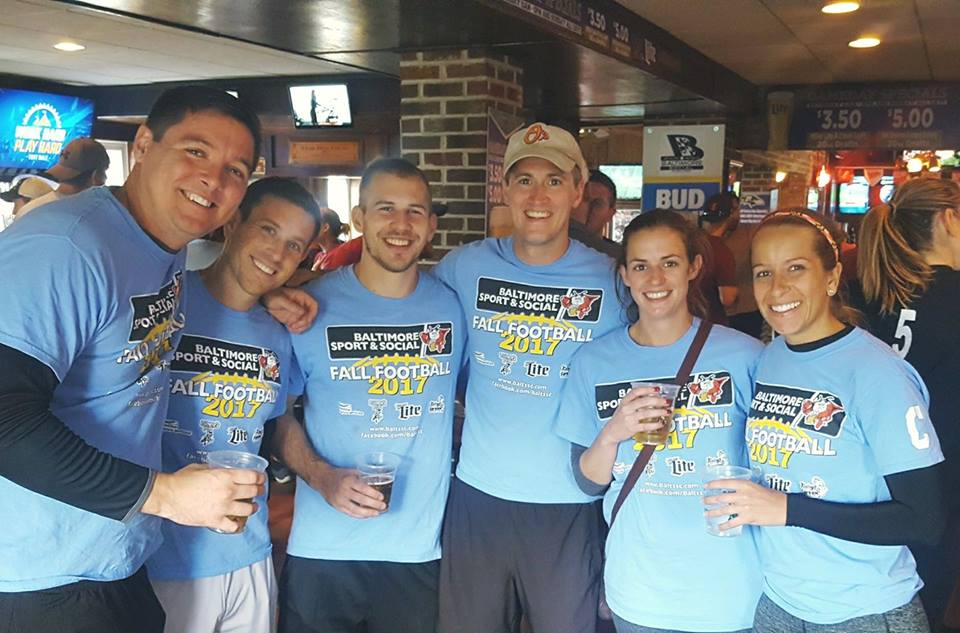 SOCIAL POINT BENEFITS
- Teams may use substitute player(s) IF they have posted a Social Point photo the week prior.
- If there is a regular season point total tie, the team will the most social points will become the higher seed. Ex. If (16) teams make the Post Season and (4) teams have the same record, the one with the highest Social Point total will become the 16th seed.
- Teams with (2) Social Point posting will receive a $50 bar voucher during their Post Season or Consolation game.

LEAGUE PARTICIPATION ELIGIBILITY
- All BSSC participants must be at least 21 years old before the season starts.
- A Division I athlete must wait five years before participating in the BSSC. This restriction does not apply to a non-similar sport (e.g., D I football player may play BSSC FOOTBALL, but not football.)
- Players who have participated in professional sports are not allowed in the BSSC at any time. This includes leagues that use "Professional" in their name. (e.g.Professional Women's Tackle League)
- Players/teams athletic ability may not exceed division definitions listed above (e.g., Social league ability may not play in the Extreme Social or Super X leagues).
- Teams will forfeit all games if these rules are broken or player(s) removed from the league.

YOU CAN PLAY ON MULTIPLE TEAMS
- Because the BSSC is a social league, players are able to play for more than one team during the season.
- Players will pay (2) league fees for those sports and sign each teams roster.
- Players cannot exceed the athletic ability of the league descriptions on either team. Ex. A player in the Social league, cannot play in the Super-X league.

BSSC NON-REFUND POLICY
- Once the BSSC has entered a coaches name online for the current season, the deposit paid at sign-ups is non-refundable. Once tee shirts are ordered, teams are responsible for the total remaining team balance.
Current Individual/Team Player
- Once a coach has ordered team T-shirts, the current player(s) /individual league fee is non-refundable.
- Injured Player (Injury MUST be sustained playing a BSSC sport outlined in a BSSC injury report)
- A league fee credit will be given if a players injury precludes them from finishing out the season.
- The league fee credit will be used for the next BSSC sport that they participate in.

TEXT SERVICE FOR REAL TIME CANCELLATIONS
- Every BSSC player should sign up for the FREE BSSC text service at www.rainedout.com. You will receive a real time cancellation via text from the BSSC when a game is cancelled. This will reduce the need to check your email, the website, or call the rainout hotline because of inclement weather.
Text BSSCFFB to 84483 to receive 2017 Fall Football alerts from BSSC.

MED STAR SPORTS MEDICINE SPONSORSHIP
- The BSSC is the ONLY sports & social league in MARYLAND to have an affiliation with MedStar Sports Medicine.
- Although ALL BSSC sports are non-contact, as with all physical activities, people may occasionally sustain an injury. Should this occur, the BSSC has entered into an agreement with MedStar Sports Medicine to provide prompt medical care (for its members) at any one of the four Baltimore-area MedStar hospitals. These hospitals include: Franklin Square, Good Samaritan, Harbor and Union Memorial.
What is MedStar Sports Medicine and how can it help you as a member of the BSSC ?
Should an injury occur, you will receive a MedStar Sports Medicine identification card provided by a BSSC Staff member.
Your affiliation with the BSSC helps to get you "fast tracked" through the Emergency Department ONLY at the above participating MedStar hospitals.
MedStar Sports Medicine is NOT an insurance company, so it will not pay for any medical claims. Simply present your MedStar Sports Medicine ID card to the Emergency Room registrar (or tell the registration staff person you are a member of the BSSC) and their staff of sports medicine specialists will help to get you back in the game again!
This ID card does NOT provide insurance coverage nor will BSSC be liable for any medical expenses.
If you waived medical attention at the field but later you feel the need to be seen by a professional, please contact the BSSC so they may refer you to MedStar Sports Medicine or if you have a question regarding the services provided to BSSC members by MedStar Sports Medicine, call Jen Pritchett, 410-772-6516, during regular business hours.